5 STEM Apps for Kids – Mixing Fun With Education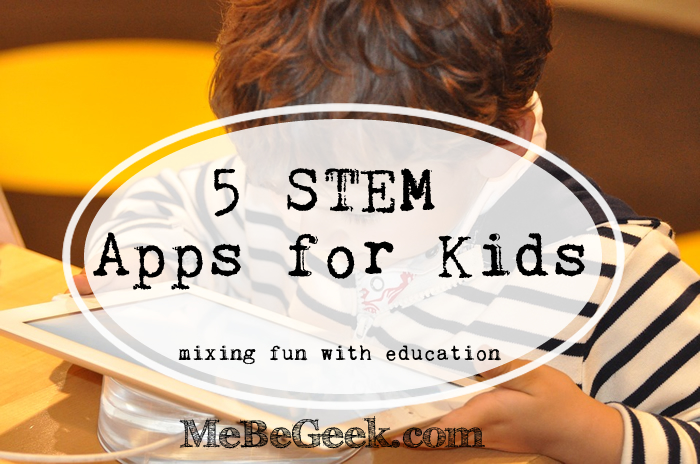 Tablets and phones can be a source of education and fun, but trying to find good stem apps for kids can be a bit hit and miss. I have lost count of the number of apps I have downloaded to check them out before letting the kids play. So many of the apps available have adverts and in-app purchasing which can expose children to inappropriate content or limit gameplay.
Here at MeBeGeek HQ ( A.K.A our home.) We have tried many apps and seen which ones really had the fun factor for the kids. Here is our top 5 which really promote STEM and ones the kids have gone back to time and time again ( and maybe me too.)
5 STEM Apps for Kids
1. My World of Atoms

Learn about elements and some compounds with this cute little game. You drill for elements and return to the 'laboratree' to use what you have found to make compounds. With humorous explanations to explain the element found to help kids remember them.
My world of Atoms is a Free app.
---
2. LightBot
LightBot introduces coding to kids, learning about commands, repeats, and procedures. Guide the little robot to reach the goal in each of the levels. This fun little game promotes problem-solving and an introduction to coding.

LightBot comes in three different versions:

Free Version – LightBot: Code Hour – this has limited levels.
£1.99 Version – LightBot Jr: Coding Puzzles – which extends the introduction into coding.
Programming Version – LightBot: Programming Puzzles – this costs £1.99 and introduces more programming routines.
---
3. SpriteBox
SpirteBox is a fun adventure game, where you navigate the levels, freeing the trapped little creatures. You are aided by sprite, a little robot that follows you and helps you. Giving sprite commands to build platforms for you to progress. Spritebox helps to learn to code, and about commands, repeats, and procedures.
Spritebox comes in two versions:

Free Version – Spritebox: Code Hour – which has limited levels
£4.69 Version – Spritebox Coding which is the full game exploring more levels using coding
---
4. Lego Mindstorm Fix Factory

Lego Mindstorm is aimed at kids 8+. You help a Lego robot move through the factory finding batteries and repairing it. There is 24 levels and is a great game to get the problem solving and coding gears turning.
Lego Mindstorm Fix Factory is a free app.


---
4. Code-a-pillar

Aimed at the younger age group, this app is created by Fisher Price. Like it's namesake toy, it is a caterpillar that gives preschool and early years kids an introduction into coding. Getting the code-a-pillar to move to reach stars to progress in the level. There is also some colour and number matching thrown in.
Code-a-pillar is a free app
These are all available in your app store, so why not download and give them a try. If you do let us know what you think.
---