Monqi Phone Review – A Phone Designed for Kids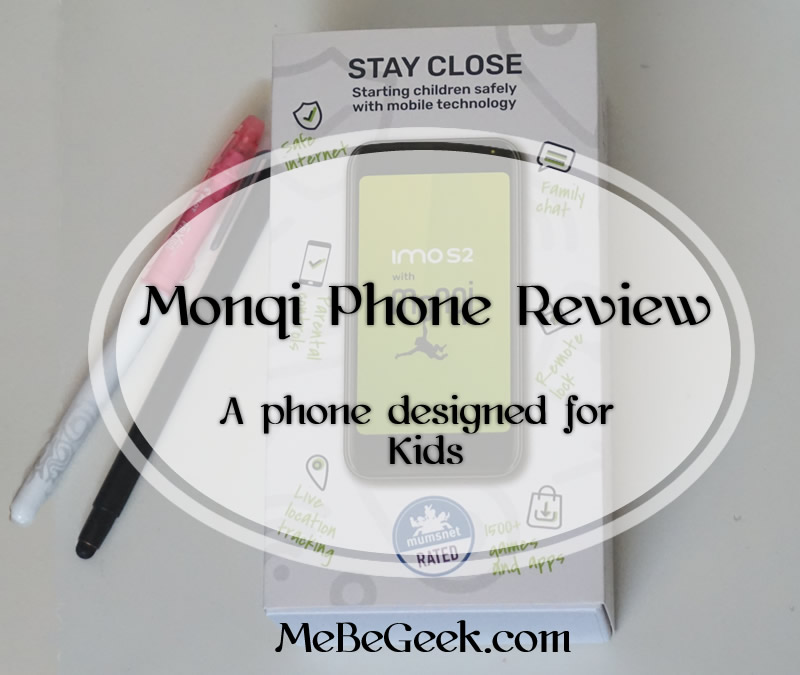 With children growing up in a digital world, it is no surprise they are asking for their own phone from an early age. Choosing when is the right time to give your child their first mobile phone can be a tricky decision, with a multitude of concerns to weigh up, including how to keep them safe. The Monqi IMO S2 phone is designed specifically to be a child's first mobile phone. Giving parents the ability to see what they are up to while providing that independence.
So after a few months of MiniMeBeGeek having the second version of the Monqi phone, here is our review.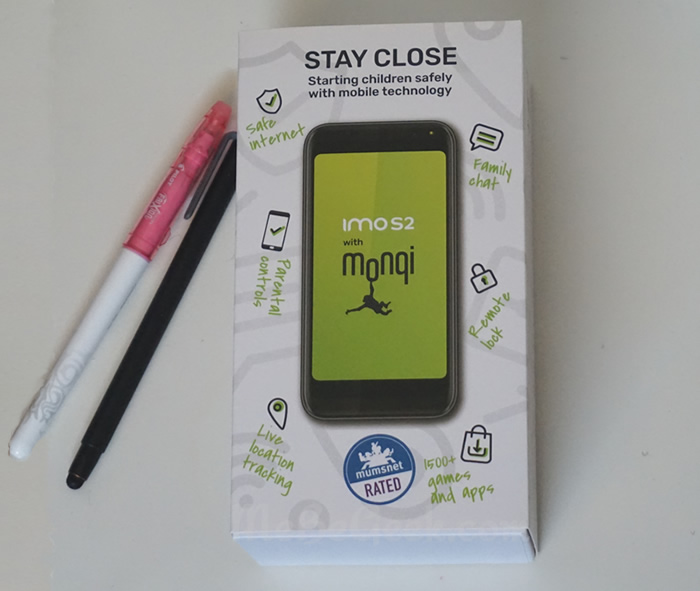 Monqi Phone — Should I buy?
There is quite a lot to love about the Monqi phone. With bespoke software that is built into the operating system that can't be turned off, giving parents a surprising amount of control over what their children can see and do. The monitoring features assists in keeping their children safe online.

The phone is an IMO S2, the change is phone is a great improvement from the STK Sync 5e. With a larger battery and increased storage and memory, the phone runs smoothly and comes prepackaged with a screen protector.
Design and Build of the Monqi Phone
As the phone is an IMO S2, it doesn't stand out as a child's phone but is just like any other under £100 smartphone. For the price, it is packed with some decent features and can cope with apps such as Pokemon Go without it lagging much at all.

It has a 5-inch screen, 2gig of ram and 16gig of storage (which can be expanded via MicroSD slot.) It has a 13 megapixel rear and a 5-megapixel front camera, and a fingerprint scanner. The 2,600 mAh battery is a great step up from the 1,950 mAh offered in the previous Monqi STK version. It also supports 4G connectivity.
To protect the screen, it comes with a screen protector applied.
In the box, you will find earphones, battery, instruction booklet, MicroUSB Charging cable and charging socket.
What Makes the Monqi Phone Ideal for Children?
As the Monqi software is layered over the Android operating system, even tech-savvy children can not exit the Monqi software. It has a child-friendly browser and an app store called Monqi Jungle with all apps free from ads and in-app purchases.
The software prevents calls and texts from non-approved numbers, so you can protect them from spam. These numbers are controlled via the parent's app. On set up of the phone, it needs to be bonded to a phone running the parents Monqi app ( which is free to install). You can set two people to be caretakers.
The Monqi parent's app is available for both Andriod and iOS. When bonded with the child's phone you can set permissions such as;
What apps they can run and any time limits.
Set restricted use of phone between certain times.
Add contacts to the phone and restrict who can be called or call
Set Geofencing
Mobile Data Allowance
It gives the parent access to see what apps they have been using, find where they are with live tracking and get alerts if they wander outside of any geofencing that is set. It sends alerts if any phrases are received that could be seen as bullying or inappropriate. The app also allows the parent to lock the phone at a click of a button.
What it's like to use?
Generally, the phone is easy to use and can cope with most apps and the Monqi Jungle app store has good coverage of fun and educational games. Google play store can be enabled, with any application requiring permissions to be played. A thing to note here is for 3rd party apps, the monitoring element will be restricted to usage only.
The cameras are ok and can capture fun photos and videos but not brilliant in low light. There is a delay when hitting the shutter which can make for blurry photos especially with the patience of a child to stand still.
It also has a messaging app enabling contact between the parent apps and the phone as well as family chat. One thing noticed is it doesn't always notify you if they send a message.
Any time restrictions or enabling applications can be changed easily in the parent app. This we have found good for rewarding good behaviour, giving extra app time. The live location is fairly accurate however will not work if there is no mobile data.
This IMO version of the Monqi phone seems to have ironed out some of the issues noticed in the STK version. It feels a lot more stable, with no bonding issues or drop of child's accounts.
One thing to note, is the apps will not be able to be played if there is no connection, they will grey out. To enable access you can set the phone into airplane mode and they will become available again.
Where to buy.
At the time of writing the Monqi phone is exclusive to Tesco Mobile, and is available in both PAYG and contract. The PAYG option costing £70 or Contract starting at £10 per month.


The Monqi phone brings that sense of independence to children and combined with regular chats with your child about keeping safe online and using devices responsibly, can go a long way to starting children the right
way with technology.
---